Product Details
3 IN 4 OUT dome Outdoor Optical Cable Splicing Closure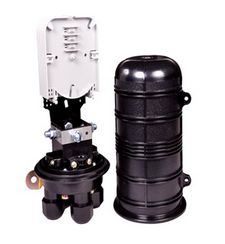 Description
3 IN 4 OUT Cap Type Outdoor Optical Cable Splicing Closure adopt high toughness, high rigidity quality PC material, exquisite workmanship, With a first-class Sealing performance and mechanical performance, Ensure the stability and smooth of the optical fiber outdoor cable.
Features
1. Have good mechanical properties and temperature characteristics.
2. Have good sealing performance.
3. Compact structure, high capacity. Easy maintenance.
4. Enough coiling radius, No additional loss.
5. This product can open again after sealing, After replacement of sealing material can be reused.
Standard
3 IN 4 OUT Cap Type Outdoor Optical Cable Splicing Closure complies withYD/T814.1-2004
Specification
NO.

Cable Port

Max capacity

Dimension(mm)

Cable Dimension

G.W.(kg)

Seal structure

Basic equipment

1

2-2

72 (6x12)
96 (6x16)

Φ260x500

Φ 7~20

4

silicon gum material

24

2

3-3

48 (4x12)

Φ210x460

Φ 7~22

4

silicon gum material or Heat shrinkable sealing structure

24

3

3-3

72 (6x12)
96 (6x16)

Φ260x500

Φ 7~20

4

Heat shinkable sealing structure

24

4

4-4

216 (6x36)

Φ278x500

Φ 7~23

7

Heat shinkable sealing structure

36

5

3-3

96 (4x24)

Φ210x567

Φ 7~23

5

Heat shinkable sealing structure

24

6

4-4

252 (7x36)

Φ278x580

Φ 7~23

7

Heat shinkable sealing structure

36

7

3-3

216 (6x36)

Φ278x580

Φ 7~23

7

Heat shinkable sealing structure

36

8

2-2

72 (6x12)
96 (6x16)

Φ260x590

Φ 7~20

7

Silicon gum material

24